!- Theme Setting fonts ->
Blindsave - 加墊短褲 Pro+ | Protective shorts Pro+
Blindsave - 加墊短褲 Pro+ | Protective shorts Pro+
加墊短褲 Pro+ | 吸震技術 | 籃球 足球 守門員 防護短褲
輕薄:高達 40% 的襯墊可讓您不受笨重感或限制動作的樂趣。
震動吸震:40% 薄襯,提升了吸震水平。
ERGONOMIC:如果您想要在受到保護時享受全方位的運動,並且感覺自己身上沒有任何襯墊,請選擇 BLINDSAVE 創新的襯墊壓縮。
優質品質:BLINDSAVE 產品符合最高品質標準。
---
{{ productService.variationPriceMemberTag(variationSelected) }}
{{ title.name_translations | translateModel }}
: {{variationName[$index] | translateModel}}
商品描述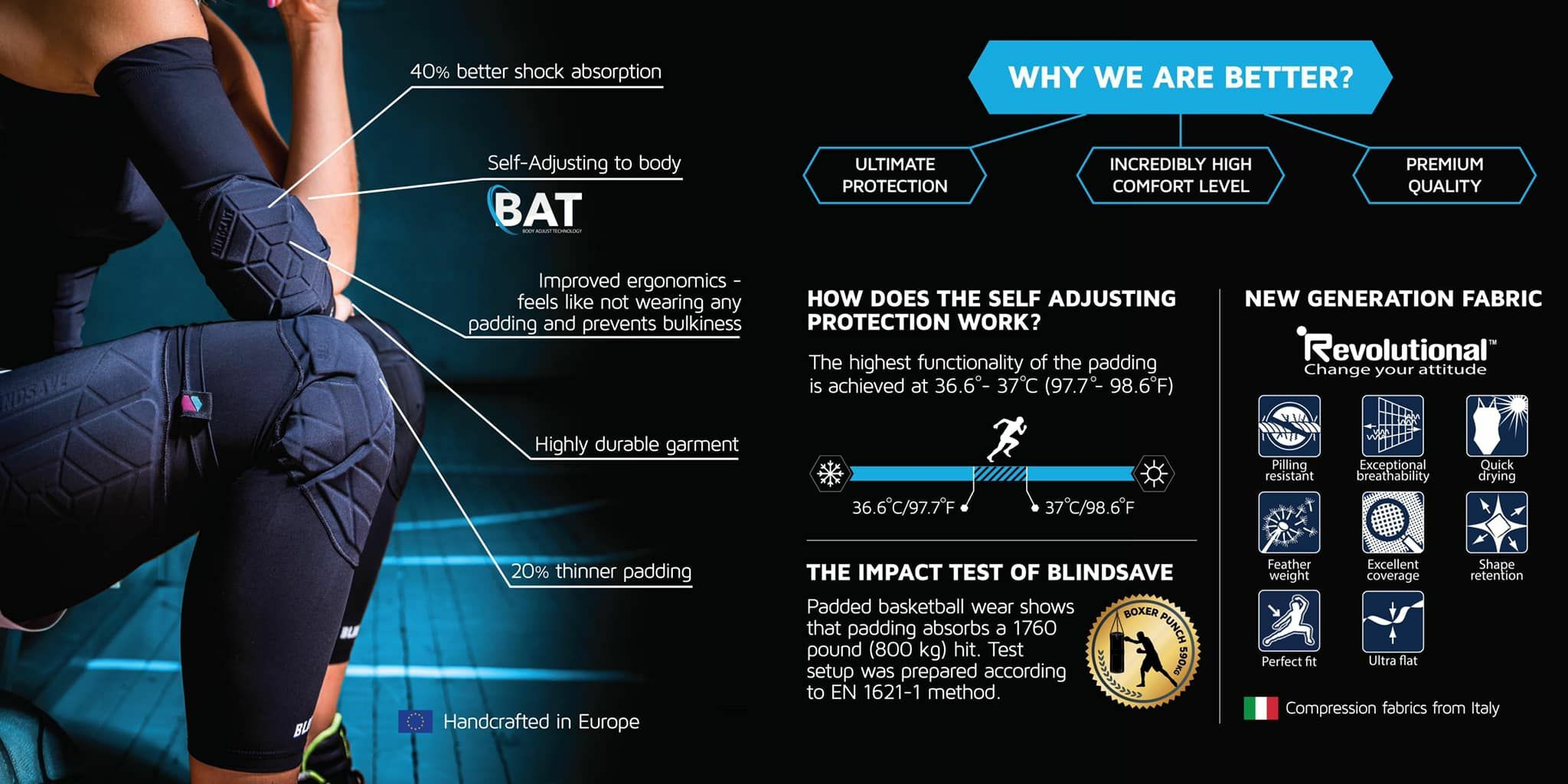 THIN & LIGHT: Up to 40% thinner padding allows you to enjoy being active without feeling bulky or restricting your movement. Through extensive testing, we found the best shape and position of the paddings. Unlike other brands, we use a spherical shape padding in order to provide the perfect fit for your kneecap. Through the use of unique shock-absorbing materials ranging from 2 to 7 mm in thickness, BLINDSAVE products offer an extremely high level of comfort.
SHOCK ABSORBING: 40% thinner padding with improved shock absorption level. We took advantage of modern technologies to offer you a better absorption of hits and to make you feel safer on the court. In fact, tests show that our hit absorption measurements have an improvement of up to 20% when compared to the closest competitors.
ERGONOMIC: If you want to enjoy full range of motion while being protected and feel like you don't have any padding on your body, choose BLINDSAVE innovative padded compression. We have created the perfect design where our padding adjusts its shape to the human body. This feature will allow you to feel like you are not wearing any padding at all. Our protective gear is very light, flexible, ergonomic, and extremely comfortable.
ADJUSTING TO BODY: At 97.7 – 98.6 F (36.6 – 37 C), the padding becomes softer and adjusts its shape to body. This ensures that the padding, once molded around your body, will stay in place and you won't have to worry about adjusting it while in the thick of the action!
PREMIUM QUALITY: BLINDSAVE products conform to the highest standards of quality. The materials used in BLINDSAVE knee pads provide an improved level of compression. The aesthetic appeal is combined with top functional performance – maximum comfort, shape retention, and quick-drying properties. Our production is based in Latvia (EU) with all products and raw materials being handcrafted locally. We work closely with scientists to develop premium products and redefine the safety level in sports.  
 輕薄:高達 40% 的襯墊可讓您不受笨重感或限制動作的樂趣。 通過廣泛的測試,我們找到了最好的填充形狀和位置。 與其他品牌不同,我們使用球形襯墊,為您的膝蓋提供完美貼合。 BLINDSAVE 產品採用 2 至 7 mm 的獨特吸震材料,提供極高的舒適度。
震動吸震:40% 薄襯,提升了吸震水平。 我們利用現代技術爲您提供更好的命中吸收,讓你在球場上感覺更安全。 事實上,測試表明,與最接近的競爭對手相比,我們的衝擊吸收測量提高了20%。
ERGONOMIC:如果您想要在受到保護時享受全方位的運動,並且感覺自己身上沒有任何襯墊,請選擇 BLINDSAVE 創新的襯墊壓縮。 我們創造了完美的設計,我們的襯墊可以根據人體調整形狀。 此功能可讓您感覺自己根本沒有穿任何襯墊。 我們的防護裝備非常輕、靈活、符合人體工程學且非常舒適。
調整身體:97.7 – 98.6 F(36.6 – 37 C),襯墊變得更柔軟,並調整其形狀以適應身體。 這確保填充物一旦成型在你的身體,將保持在原位,你不必擔心在厚的動作時調整它!
優質品質:BLINDSAVE 產品符合最高品質標準。 BLINDSAVE 膝蓋墊所使用的材料提供了更好的壓縮水平。 美學吸引力與頂級功能性能相結合 – 最大的舒適度、保持形狀和快速乾燥性能。 我們的生產基地在拉脫維亞(歐盟),所有產品和原材料都在當地手工製作。 我們與科學家密切合作,開發優質產品,重新定義運動中的安全水平。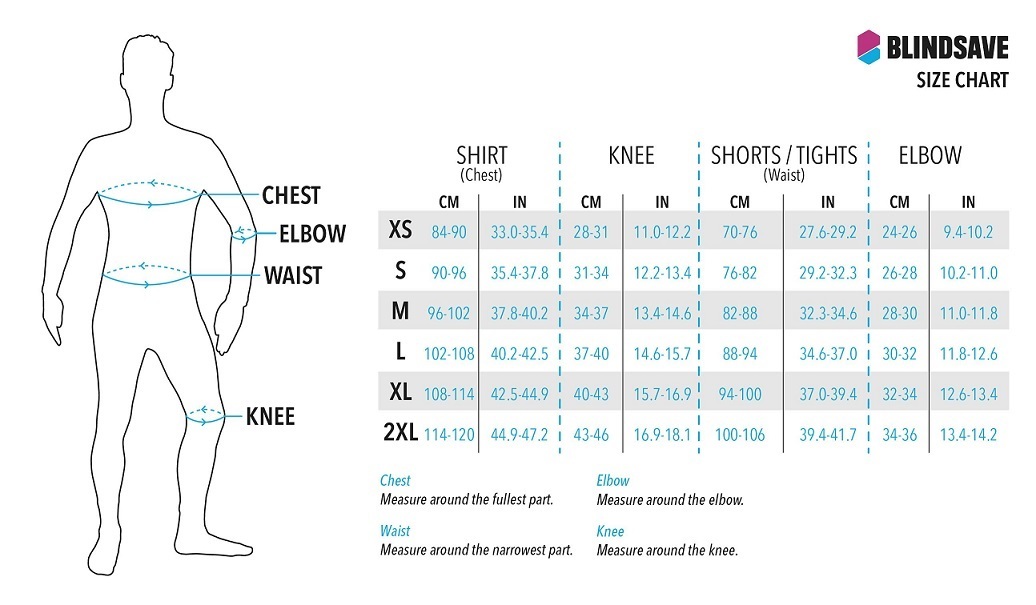 送貨及付款方式
送貨方式
(澳門地區專用) 順豐速運
順豐速運 (直送:住宅/工商地址)
順豐速運 (智能櫃)
順豐速運 (營業點)
順豐速運 (順豐站)
自取:銅鑼灣店舖 (Brilliant Channel 店)
自取:荃灣客戶服務中心
付款方式
Apple Pay
PayMe [可使用消費券]
信用卡 (Visa/MasterCard) [包括Tap&Go]
八達通 (Octopus) [可使用消費券]
支付寶HK (AliPayHK) [可使用消費券]
銀行轉帳/ATM